KID is excited to welcome our new fall 2020 team of interns. KID's interns will work on a wide variety of projects and issues, such as product safety research, social media and blog writing, outreach and education, advocacy, and event planning. Learn more about our fall 2020 team below. We're thrilled to have them join us.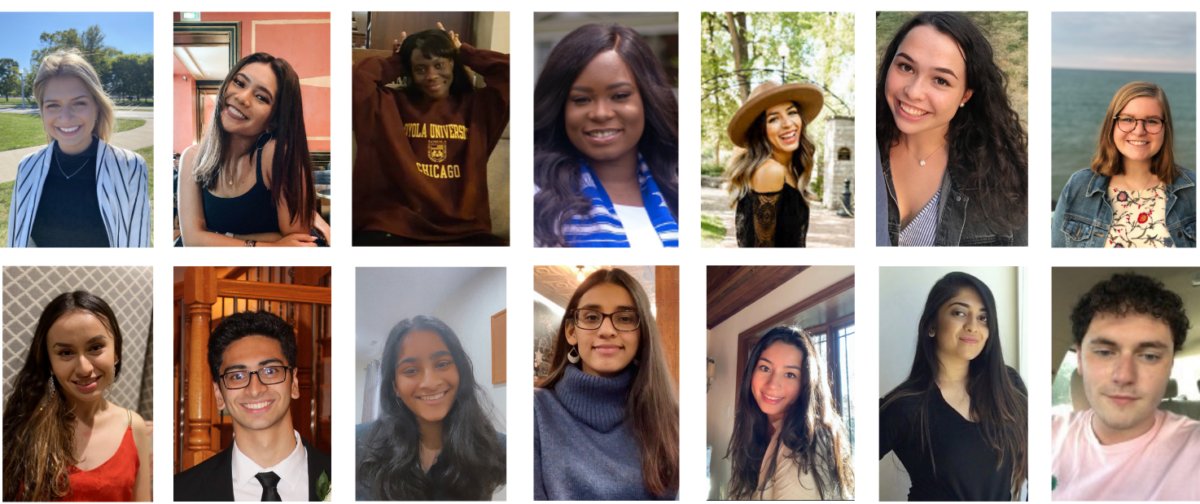 Hannah Rhodes
My name is Hannah Rhodes and I am a senior studying Political Science and German Studies at DePaul University. After I complete my undergraduate degrees, I plan on attending graduate school to receive my master's degree in Public Policy. Throughout my time at DePaul, I have developed an interest in non-profits and am glad to be supporting KID, a non-profit whose mission of children's product safety aligns with my own values. Helping to educate caregivers and advocate for transparency and accountability is vital to protecting children, who are unable to understand the dangers around them. I am grateful to be able to contribute to KID and am excited to see what I'll be involved with this upcoming year.
Dominique Dungca
My name is Dominique Dungca and I am a junior at Loyola University Chicago, studying Political Science and Criminology/Criminal Justice with a minor in Spanish. My post graduate plans include law school, as I have interests in working with underrepresented and minority groups and would like to apply the skills I have learned and will learn at KID. I am very excited to be part of the KID team and am eager to learn more about public policy and advocacy for the children and parents in our communities. I hope to utilize my education and experience at KID to work in public policy and public service to continue to serve underrepresented communities. KID's mission inspires me to do more for those who need support.
Tenika Sam
My name is Tenika Sam and I'm an undergraduate at Loyola University Chicago studying psychology. As someone with a background in psych, having an affinity for empathy has always been something I've strived towards. So, to see the mission of KID and all that it fights for ¾ultimately empathy from these huge corporations towards their consumers¾ I felt quite drawn in. As I've worked here, it has only become clearer every day just how imperative this fight is for children's product safety and many other overarching areas of life. I'm glad to be a part of this effort.
Alanna Davis
My name is Alanna Davis and I am a master's student of Biomedical Informatics at the University of Chicago. I have been working as a Program Intern for KID since last fall. I have aspirations to attend medical school and pursue a career in medicine, biomedical informatics, and public health. As an intern for KID, I have learned so much about children's product safety, as well as the inner workings of a nonprofit. My experience with KID has provided me with wonderful insights into the different aspects of advocacy work and community advancement efforts. I am very excited to see what this fall brings!
Kasey Campos
I'm Kasey Campos and I have been working with KID for a little over a year now. I love working on a cause that is so near and dear to my heart. As a mother myself, I know how important it is to be giving our most vulnerable consumers a voice. I'm a senior at Loyola University Chicago studying Biology pre-medicine and have a special interest in working with and advocating for marginalized populations. Interning at KID allows me to not only serve my community but also allows me to practice necessary skills such as research and professional writing. I can't wait to continue my time here at KID and work towards a safer community for children of all ages.
Gillian Flatley
My name is Gillian Flatley and I am a senior at DePaul University. I am planning to graduate in the spring with a B.A. in Community Psychology and a minor in Relational Communications. I wanted to become a part of the KID team because I believe in the protection of children and families as well as manufacturer accountability. I am looking forward to contributing to KID's mission of advocating for child safety.
Samantha Gustafson
My name is Samantha Gustafson. I am a senior at Loyola University Chicago, and I am studying Communication and English Literature. I have aspirations of working in a communication role at a non-profit after graduation and ultimately plan to attend law school after gaining a few years of professional experience. Throughout my education, I have developed a passion for social justice and an eagerness to use my voice and skills to create positive change. In my search for an internship, I was drawn to KID's mission, and I specifically admire the way that KID's work is grounded in helping real families. Through my work with KID, I hope to improve my research and outreach skills, as well as gain a better understanding of advocacy on national and local levels of government. I am so excited to be working with KID this semester to advocate for and communicate with families to create a safer world for children!
Laurisa Sastoque
My name is Laurisa Sastoque, and I am currently a sophomore at Northwestern University majoring in English and History. This fall, I am working for KID remotely from my hometown in Bogota, Colombia. I am interested in non-profit work and in applying my humanities background to real-world issues and initiatives. Getting to work for KID has been a very rewarding experience. I have been able to bring forward my previous experience and make use of it in projects ranging from video editing to engaging with the product recall database. I believe my time at KID will help me familiarize myself with the world of nonprofits and deepen my skills set.
Aniruth Senthilkumar
My name is Aniruth Senthilkumar and I'm a freshman at Loyola University Chicago. I'm a Biomedical Engineering student and plan to attend graduate school and possibly work in industry in the future. I'm interested in learning more about product safety and one day designing products that place safety and human-centered design before anything else. I'm so excited to be interning at KID because I can contribute to such a good cause while also learning how to become a more ethical engineer.
Swathi Sureshmoorthy
My name is Swathi. I'm a high school junior who loves engineering and science. In my free time, I'm either reading, playing the piano, cooking, watching Netflix, or talking to my friends. Also, I'm a proud delegate of the Model United Nations chapter for my school, where I try to come up with diplomatic solutions for problems in our world today. Another activity I'm very involved in is my engineering class, PLTW. I've been working on designing basic products and creating them in my class. It's one of my favorite parts of my day and I'm so excited to carry that passion forward in KID. As an engineering student, I understand how critical it is to ensure products are safe for usage, especially for kids, and I am proud to help advocate for that safety in any way I can.
Duaa Israr
My name is Duaa Israr and I'm a senior at DePaul University double majoring in Journalism and Political Science. I have always been interested in combining my interest in reporting and my love for politics. I chose to intern at KID because I believe they do a fantastic job of combining research and policy to solve problems that affect children everywhere. Coming from a large family where children are at the heart of every gathering, I want to be a part of a community that is dedicated to making sure every child is safe. I'm very grateful and excited to be a part of KID and their mission statement.
Sam Herrera
I'm a second year Public Policy and Comparative Race and Ethnic Studies Major at the University of Chicago. I've working at KID for a year now doing research and administrative work. I love working at KID because I know the work that I'm doing is meaningful and helping families beyond Chicago. I'm excited to continue this year!
Priyali Patel
My name is Priyali Patel and I'm an undergraduate at Loyola University Chicago studying Biology with a Bioethics minor. I was raised in Chicago where I grew up taking care of my younger brother who was diagnosed with sickle cell, which put a lot into perspective for me. I decided I wanted to pursue a career in pediatrics when I realized my passion for helping children. I love learning about different aspects that affect children on a daily basis. In the past, I have worked for Save the Children as a student ambassador to spread awareness and advocate about issues affecting children. I want to continue working towards children's safety and their health, which led me to intern at KID. As an intern, I am excited to expand my knowledge learning about children's products and to offer my best skills as we work towards KID's mission.
Jack Brannon
My name is Jack Brannon and I'm a junior studying Marketing with a minor in Non-Profit Management at Loyola University Chicago. I'm so excited to be working for KID this semester, as non-profit work is something I'm deeply passionate about. This summer I made a website for environmentally focused non-profits, and since then I've known this is the field for me. I'm looking forward to the advocacy and research work I'll be doing for KID, and I'm glad to be part of this team!