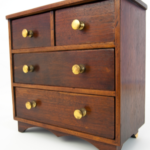 Furniture tip-overs can occur in an instant, even when children are under supervision. A simple act of curiosity can lead to life-threatening injuries to a child or death. A new CPSC report shows that on average 22,500 hospital emergency visits are attributed to tip-overs per year (2018-2020), of which 44% were children. According to the report, there were 472 child tip-over fatalities since 2000, accounting for 81% of all tip-over fatalities. 
Here are a few tips to protect against tip-overs: 
Secure furniture to the wall using furniture safety straps or L-brackets. Anchor your furniture to the wall and mount TVs.

Before purchasing furniture, including secondhand, check for recalls at

cpsc.gov

.

Remove tempting objects such as remote controls and toys from high places that children might try to climb and reach.
While anchoring is an important safeguard, it's not a long-term solution. Many renters cannot anchor furniture as their leases won't allow them, consumers may not know how to properly anchor furniture, or simply don't know the risk. With ongoing injuries and deaths, policymakers must take a stand to prevent furniture tip-overs. 
Last summer, the U.S. House passed The Stop Tip-overs of Unstable, Risky Dressers on Youth (STURDY) Act with a bipartisan voice vote. KID is working with Parents Against Tip-overs (PAT) and other consumer advocates to pass this important legislation in the Senate. The Act will require the CPSC to create a strong mandatory standard that would:
Cover all clothing storage units such as dressers, chests, and bureaus,

Require testing to simulate the weights of children up to 72 months old,

Require testing measures to account for scenarios involving carpeting, loaded drawers, multiple open drawers, and the dynamic force of a climbing child

Mandate strong warning requirements.
The bill has strong support from a wide variety of constituencies including pediatricians, furniture makers and retailers, parent advocates and consumer groups. Check if your Senators are current co-sponsors here. Contact your U.S Senators and ask them to co-sponsor the STURDY Act, or thank them if they're already co-sponsors. Let us know in the comments section below how your call went. 
KID Executive Director Nancy Cowles led a webinar this week featuring Janet McGee of Parents Against Tip-overs and LifTed, CPSC Consumer Ombudsman Jonathan Midgett, and William Wallace of Consumer Reports about how to prevent tip-overs and the STURDY Act. Watch the webinar here.