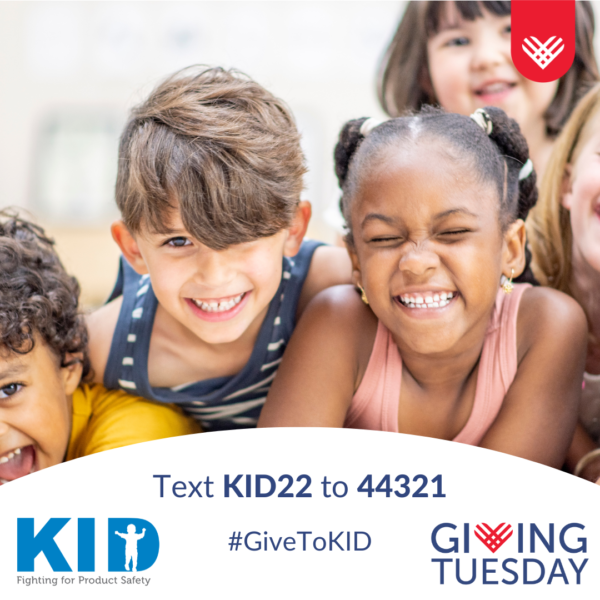 Giving Tuesday is here! #GivingTuesday is a global generosity movement to support change-making organizations. Like many nonprofit organizations, KID is in need right now and needs your help. We thank all our donors for their continued to support to KID. Your help allows us to fulfill our mission to protect children by fighting for product safety.
KID had a lot of victories this year and we are proud of the changes we have inspired. Through our strong advocacy efforts, Congress passed Reese's Law to prevent button and coin cell battery ingestion and the Safe Sleep for Babies Act which bans padded crib bumpers and inclined sleep products. The CPSC has also passed many standards to keep children safe like their new magnet rule and their new standard to prevent tip-overs. The CPSC's standard for infant sleep products also went into effect this year, making sure that all products marketed or intended for sleep are safe for babies. As we celebrate our successes, we remember babies like Preston, who suffocated against the bumper of his crib at just eight weeks old and Alex who died in an inclined sleep product.
There is still so much more to do. The U.S. House needs to pass the STURDY Act to prevent furniture tip-overs, and our education efforts continue as many parents and caregivers are unaware of the dangers associated with unsafe products.
Help us reach our Giving Tuesday goal of $12,000 so we can continue to affect change and keep children safe from dangerous products. Make a donation by texting "KID22" to 44321, or you can access our giving page here. And after you donate, please share with your friends and family about why you gave to KID and spread the joy of generosity.
Thank you for your support for KID and your dedication to children's product safety.