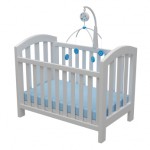 On December 29, the CPSC released their report: Injuries and Deaths Associated with Nursery Products Among Children Younger than Age Five which gives data on 2013 and previous years. To really understand the incidence rates of dangers associated with nursery products, we recommend you take a look at the report. For now, we offer you a brief overview of their findings.
Injuries
In 2013, there were 74,900 emergency-department treated injuries associated with nursery products among children younger than age five. Falls were the leading cause of injuries, with most injuries occurring to heads and faces. Internal organ injuries, contusions/abrasions, and lacerations made up the majority of injuries. The top three products implicated in these injuries were infant carriers, cribs, and strollers. Compared to 2012, there was a decrease of injuries associated with nursery products—down from 77,900. While we would like to see the numbers much lower, KID is happy to see that children are increasingly safe from product dangers.
Fatalities
Between 2009 and 2011, the CPSC recorded an average annual fatality rate of 112 deaths associated with nursery products in children under five. The top products involved in fatalities were cribs, bassinets, and play yards. In many of these cases, the children died as a result of asphyxiation or a hazardous environment. KID urges parents and caregivers to review our Safe Sleep Tips to prevent deaths of this kind.
This information is important in guiding the CPSC's future work. Scott Wolfson, Communications Directions and Senior Advisor to the Chairman of the CPSC, identified two important uses: "This report helps us assess the effectiveness of a series of juvenile standards that we have enacted and will continue to enact, and it lets us know where non-mechanical issues exist, such as soft bedding in a crib, that need to be addressed by education."
Although these numbers may be discouraging, know that you can take action to protect your children by educating yourself with all of the resources available online through Kids in Danger. Kids in Danger is also hard at work to advocate for stronger safety standards which protect children from dangerous products.