KID's summer Italian exchange student, Ludovica Chiappini, joined KID ED Nancy Cowles yesterday as they visited the Hoosier state to meet Staci Tober (Trevor's mom) and Karlee D. Macer, a State Representative of Indiana. Below are some insights into their day trip
Yesterday, the 22nd of July 2015, at 5:45 AM my unique day began.
I know, it is quite early to start working and it takes a lot less than three hours of driving to get to KID's office. However, I can firmly say: IT WAS WORTH IT!
KID ED Nancy invited me to go to Indianapolis with her to speak with Indiana State Legislator Karlee D. Macer in the morning and have a meeting with the experts at Stericycle in the afternoon. What a great opportunity, how could I have asked more?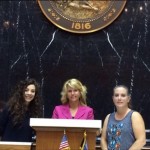 10:00am: We meet Staci, Representative Macer at the State House of Indiana.
The first person I met was a sweet and nice woman named Staci, Trevor's mom. Trevor was killed by an infant swing at his suburban Indianapolis child care home in April 2002. Staci is a strong advocate of Children's Product Safety Improvement Act (CPSIA) and she hopes it will pass in Trevor's honor in Indiana. With the help of KID, Staci hopes for possible state legislation regarding children's product safety in Indiana. Specifically, her proposal would remove recalled products from child care facilities in the state.
House Representative Macer believes that there are real chances for positive results for this legislation. KID will provide all the information and the support she will need to see this legislation pass.
This is an important step for KID to promote the development of safe children's products and keep Indiana children safer.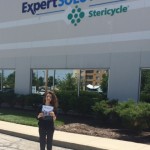 1:30pm:  Meeting with Stericycle
Stericycle is a leader in recall execution and helps to manage the recall process for numerous industries. Their services help their clients protect consumers.
It was extremely interesting to discover another aspect of the recall processes and it helped me to understand better how the recall processes work in America.
3:00 pm: back to Chicago
I feel lucky indeed. It was a great opportunity to learn more about KID's mission and see some of their life saving work in action. As a result of today, I understood better the importance of educating the public about potential product dangers in order to avoid preventable accidents. I also now understood how it is fundamental to reach out legislators who can adopt effective solutions and reduce the number of young victims of dangerous children's products.