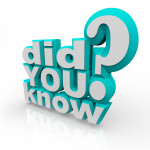 Parents and caregivers have a wealth of knowledge from experience about how to raise a child with love and care. However, there are many things relating to safety that may surprise you.
Did you know there were no requirements for testing or mandatory standards for most children's products before 2008?
The Consumer Product Safety Improvement Act, part of which was named after Danny Keysar, "…makes consumer products safer by requiring that toys and infant products be tested before they are sold, and by banning lead and phthalates in toys." It also required CPSC to develop strong mandatory standards for infant durable products such as cribs, strollers, and high chairs.
What does this mean for you? This means that any product bought before this date may not meet the latest safety standards. Remember, the date you want to check is the 'manufacture date' not the date it was sold.
Did you know registering your product is the only way a manufacturer can contact you in the event of a recall?
If a product is recalled, there is a chance that you might not learn of the recall in a timely manner because recalls don't always make front page news. As a result, the unsafe product can unknowingly remain in your home, school, or childcare facility. To prevent this, register your product with the manufacturing company, allowing the company to contact you directly in the event of a recall.
What does this mean for you? Companies are required by law to notify anyone who has registered their product in the event of a recall; helping shift the burden of responsibility from parents to manufacturers. By filling out the product registration cards that come with products, parents and caregivers can ensure they are contacted in the event of a recall. If you no longer have the product registration card that came with your product, register your products online.
Did you know it's illegal to buy or sell drop side cribs?
Drop-side cribs pose a high risk to children because the hardware often fails, leaving a gap where the child can get stuck between the side and the mattress, causing serious injury, and even death. If you have a drop side crib, destroy and dispose of it, or repurpose it.
What does this mean for you? Cribs made after June 28, 2011 meet the strongest standard in the world. This standard excludes drop side cribs. To ensure your baby sleeps safe, invest in a crib, play yard, or bassinet that meets the current federal standard.
Did you know that children's clothing should not have drawstrings?             
The CPSC has recalled millions of sweatshirts and other clothing items with drawstrings around the neck, as they can cause strangulation. Drawstrings can get caught on things such as playground equipment and school buses.
What does this mean for you? It is illegal to sell clothing with drawstrings.  If you see any in stores, report it to SaferProducts.gov.  If your child already has clothing with drawstrings, remove it. It's simple– just cut off the knot at the end of the string and pull the entire string out of the hood or waistband of the item of clothing.
Keep up to date with safety and recalls by following KID on Facebook and Twitter and by signing up for our monthly email alert.