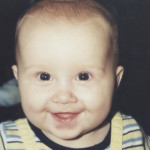 Raedyn and Erik were extremely protective over their 3-year-old son, Chase, and baby daughter, Riley. They taught Chase not to leave small toys where Riley could get to them, kept their kids away from foods that could be choking hazards, and thought all of the products in their home were safe. But on January 2, 2001, just about two months before her 1st birthday, Riley was killed when her Baby Trend Home and Roam portable crib collapsed. The portable crib, which was loaned by a friend of the family, had been recalled 5 years earlier. Neither Riley's family, nor the friend that loaned the crib, were aware of the recall. Since they had not experienced any problems, they had no reason to suspect it was unsafe.
This post is dedicated to Riley, who passed away 16 years ago this month. KID wants to honor her family's strength and to highlight how unsafe, inadequately tested products continue to pose deadly consequences to our children. Riley's story shows how even the most thoughtful and cautious parents can be unaware that they have dangerous recalled products in their homes. In fact, a portable crib of the same design as the one that killed Riley was also responsible for Danny Keysar's death. Danny's death in 1998 led his parents, Linda Ginzel and Boaz Keysar, to found Kids In Danger and begin fighting for safer children's products. Danny, Riley, and 17 other children have died to date in collapsed portable cribs or play yards with rotating top-rail hinges. Recalls and corrective actions for portable cribs have been issued for various reasons:
Risk of serious injury or death if misassembled
Choking or entanglement hazards
Head entrapment or suffocation
Risk of injury from tipping when legs on the product become loose and separate.
In 2013, the Consumer Product Safety Commission (CPSC) approved new safety standards for play yards, a term for these products that is sometimes used interchangeably with portable cribs. The new rules require side rails that resist forming a sharp V when folded, stronger corner brackets, and sturdier mattress attachments to the play yard floor. These rules have significantly reduced the number of accidents and tragedies, but it's still crucial that parents and caregivers are aware of risks.
Click here and here to learn more about these product hazards. Keep up with recalls by signing up for KID's monthly email alert. You can also check out product hazard incident reports from fellow consumers on SaferProducts.gov even before a product is recalled.