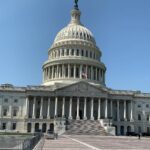 This week, KID was in our nation's capital meeting with decision makers to advocate for children's product safety.
With our coalition partners U.S. PIRG, The American Academy of Pediatrics, and Child Care Aware, we met with the U.S. CPSC Acting Chairman, commissioners and staff (picture below). We shared the alarming results of our recent survey conducted with U.S. PIRG finding recalled infant inclined sleepers like the Fisher-Price Rock 'n Play and Kids II Rocking Sleeper still in use in 1 out of 10 child care facilities. We also spoke about KID's new report finding 35% of recalling companies didn't post about their recalled children's products on the company's website even when CPSC's press releases included a link to the  site, and over half of recalling companies didn't publicize the recall on social media. If consumers can't access recall information on the company's website, they're less likely to participate in the recall.
We called on the CPSC to get children's product recall information into the hands of child care providers, and to establish a mandate for companies to provide a recall webpage to ensure easy access to participate in the recall remedy. In addition, CPSC must strongly encourage companies to use robust methods to reach consumers through social media and direct communication.
The meetings were all productive with good ideas for improving the recall situation going forward.  All parties agreed though, that since most recalls are voluntary, with little authority for CPSC to mandate outreach, it is really up to manufacturers to do a better job reaching their consumers.
KID also spent time talking to Congressional staff about pending legislation to ban infant inclined sleepers and crib bumper pads, and a bill that would create stronger standards to prevent furniture tip-overs. Read more about the bills here. KID will keep you up to date on the status of the bills as they move through the House.