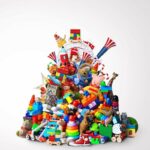 The U.S. Consumer Product Safety Commission (CPSC) recently released a new report, Toy-Related Deaths and Injuries Calendar Year 2018, which provides the latest data on deaths and emergency-department treated injuries associated with toys. The report found that in 2018, 17 children died from toy-related incidents. These included three children who were struck and killed by motor vehicles while using a product, seven children who drowned, and seven who died via airway obstruction.
The number of toy-related deaths has slightly increased from previous years, with 12 deaths reported in 2016 and 14 deaths reported in 2017. In addition, it should be noted that the number of reported deaths rises each year after the report is released. The 17 deaths reported in 2018 is almost certain to rise as more information becomes available.
There were 226,000 toy-related injuries reported in 2018. Of these injuries, 37% involved children five and under. Specific toys that caused the most injuries were non-motorized scooters, building sets, and toy vehicles. Building sets and toy vehicles accounted for 13% of injuries in children five and under. Non-motorized vehicles accounted for 19% of injuries in children 15 years and under.
The good news is that 2018 had the lowest number of overall reported toy-related injuries in the period between 2010 and 2018. The second lowest number of injuries was in 2016, with 240,000 injuries.
For more information and safety tips, check out our toy hazards page and our recent blog on holiday shopping tips. Report any incidents you have involving unsafe toys at SaferProducts.gov.