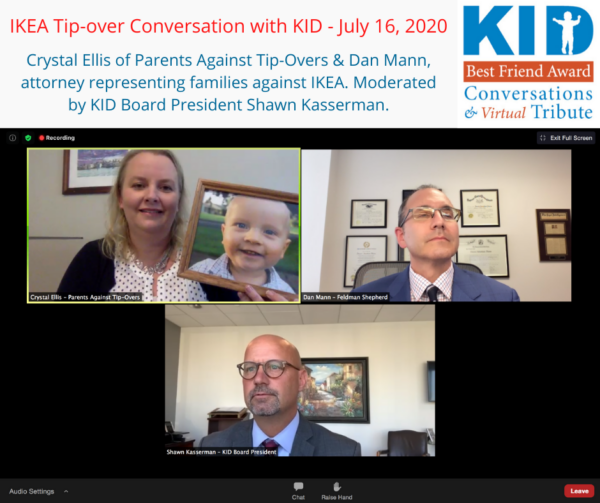 On July 16, KID hosted our first Conversation with KID, part of our Best Friend Award Conversations and Virtual Tribute. Our first talk was about the dangers of IKEA furniture tip-overs and featured Dan Mann, an attorney who represents families in lawsuits against IKEA, Crystal Ellis, a founding member of Parents Against Tip-Overs who lost her son to a tip-over incident, and moderated by KID Board President Shawn Kasserman. Special thanks to Tomasik Kotin Kasserman trial lawyers for sponsoring the event. If you missed the talk, view the full recording here.
The conversation began by talking about Crystal Ellis's first-born son Camden, who tragically suffocated under an unstable IKEA dresser when he was just two years old. The Ellis family later became one of four families represented by Dan Mann, a partner at Feldman & Shepherd, in cases involving lax product safety measures against IKEA. The panel also discussed the weak voluntary standards set by ASTM International and the lack of regulation by the U.S. Consumer Product Safety Commission (CPSC). Most parents are unaware of their furniture's safety testing history or do not get notified when products they've purchased later get recalled. Crystal spoke in front of Congress last year to advocate for the STURDY Act, which would mandate the CPSC to create a strong, mandatory standard for clothing storage units.
Crystal shared her message to all child product companies: "Consumer brand loyalty is a big deal, and in the time of social media and easy access to brands, use your power to make safe products. Protect yourself. Test your products thoroughly, listen to your engineers before you put them on the market, and if you find that there is a problem, care about your consumers. Pull it, test it again, see what could possibly be going wrong."
Crystal and Dan graciously answered audience questions that we weren't able to get to on the call, which you can read here.
Sign up for our second Conversation with KID on August 5, 2020, featuring U.S. Rep. Jan Schakowsky (IL-9) and Remington Gregg of Public Citizen, moderated by KID Executive Director Nancy Cowles. We'll be talking about children's product safety legislative achievements and the current regulatory environment.
Full recording of the IKEA Conversation with KID below.